I still had the ring pull top off the Sardine tin I used for my altered sardine tin in the last post so I thought I would put it to good use as a tag. After all it was tag-shaped to start with. I folded back the ring pull and used a pair of pliers to flatten the folded over portion. Suprisingly the edges are not sharp at all either but I thought they might be !
I then applied a piece of printed paper in a diamond pattern with multi media and once dry trimmed around the tin lid.
Next I stamped a distressed polka dot pattern in archival black ink over the paper and allowed to dry. Then I used a Versamark pen and selectively inked some of the diamonds which I then heat embossed with glossy claret embossing powder. Didn't want this embossing to be perfect looking in line with the distressed effect. I then went around the edge of the tag with black soot Distress ink and a cut'n'dry foam applicator.
I found a piece of pink and white check paper in my bit box which I then stamped with 'Mort had a Pin Curl' from Stampotique and more archival black ink before colouring in with Copic markers. The image of Mort was then trimmed out leaving a narrow border which again was inked with black soot Distress ink.
I then took a crown bottle cap and after lining with a circle of purple paper I put in a label in silver with the word 'Laugh'. I tipped in clear UTEE crystals and heated until molten and bubble free with the heat gun allowing this to cool completely.
A fabric flower was coloured with matching Copic marker and distressed with more black soot Distress ink. This was stuck to the back of the bottle top .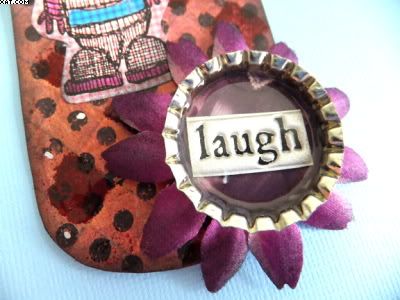 The tag was then embellished by sticking Mort in place as shown and applying the bottle top flower with a large sticky dot. Some silver metallic marker was applied on some of the background dots and a length of coloured yarn tied through the ring pull to finish.
Sid xx